Times in life when tears must fall When heart is filled with woe
Place to have this time I need As saddened heart will flow
Today I cried so many tears They seem to give me peace
Knowing that each drop I shed Would give my soul release


Take away this pain I feel Let the hurt subside
Tears that fill an ocean of This sadness felt inside
Need this time to cast away The sorrow that's within
With every tear the pain awash The joy will then begin


Tears in life give comfort now For all the hurt we feel
Cascading in a pool of life So each of us can heal
Perhaps I cry these tears for you Perhaps they are for me
Whatever reason for these tears They fall from heart's bounty.

~ Francine Pucillo ~
Šused with permission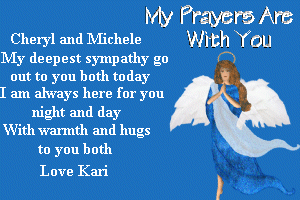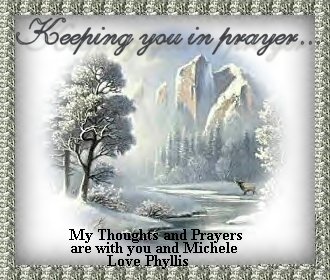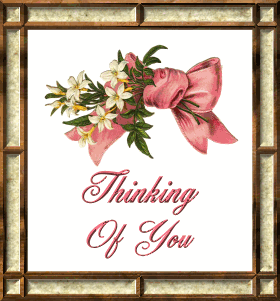 Cheryl and Michele
Please know that I am sending you my deepest prayers
My thoughts are with you both
If you ever need anything please know I am here
Love and Hugs
Roberta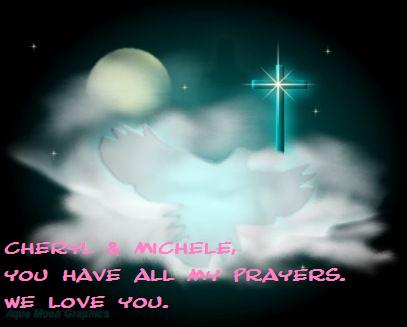 Love and Hugs
From Sondra





Please click on the next button to see more warm thoughts for You (Cheryl) and Michele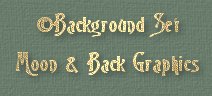 All graphics and pages are copyright © 1997 - 2008 Pages 4 Ever (except where noted). Do not take, copy, steal, plagiarize or use in any way, shape or format without the express written permission of Pages 4 Ever.

Some backgrounds and graphics made from clipart acquired from ArtToday, Boxed Art, friends, my own imagination, and/or graphic CD collections that I have purchased. If you find anything on this site that you have copyright to, and can prove it, please let me know and I will gladly either remove it or place a link back to you, whichever you prefer.

If you should find any broken links, please drop us a line and let us know the exact URL the broken link is on. Thank you.