For you Mike!
Michael Wayne Page

September 6, 1951

March 23, 2003
Dearest Mother, queen of the shining lands beyond our own, I come before this day and ask for comfort for myself, my daughter and my loving husband, Mike.
In life, we were inseparable. We shared many wonderful memories and had a life together of love and happiness. Mike has entered your Eternal home and I feel so alone and empty without him by him side.
I know that Mike is now with you, and out of pain. No longer will he suffer the ailments of his flesh body. I know that you will be there to take care of Mike now, as he awaits his rebirth, just as I loved and cared for him while he was here with me.
Please Dear Mother, give us the strength and courage to move on.
Blessed Be....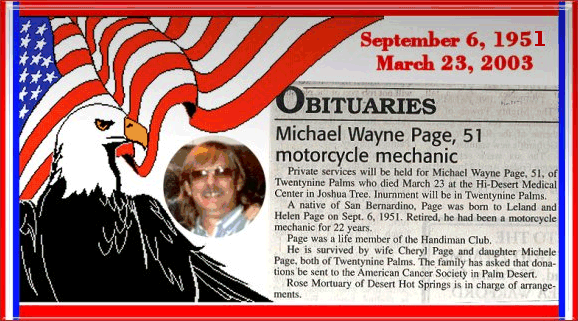 On Sunday, March 23rd, Mike's days of pain and suffering came to an end. My loving husband, my best friend, my soul mate, is now resting peacefully in the hands of our Mother and Father.
Mike, my love, I will miss you dearly. You brought me many years of happiness and laughter and I know you knew and will always know just how much I love you. May you rest peacefully, and always know that you have been a wonderful part of my life.
Thank you Mike for all the wonderful memories and happy times. I love you!
Til we meet again, you will always be in heart.
Dad, you will be missed greatly for the joy you have brought those who knew you; love to those who were close. Keep watch through the floors of heaven and keep watch o'er us all! I will always love you! I'll see you again in my time, but until then, goodbye! I love you daddy!




All graphics and pages are copyright © 1997 - 2008 Pages 4 Ever (except where noted). Do not take, copy, steal, plagiarize or use in any way, shape or format without the express written permission of Pages 4 Ever.

Some backgrounds and graphics made from clipart acquired from ArtToday, Boxed Art, friends, my own imagination, and/or graphic CD collections that I have purchased. If you find anything on this site that you have copyright to, and can prove it, please let me know and I will gladly either remove it or place a link back to you, whichever you prefer.

If you should find any broken links, please drop us a line and let us know the exact URL the broken link is on. Thank you.